LOJO P300
L-U-E-V Focus on city car

Three doors and two seats, large storage space, convenient and multi-functional,
fashion interior, beautiful appearance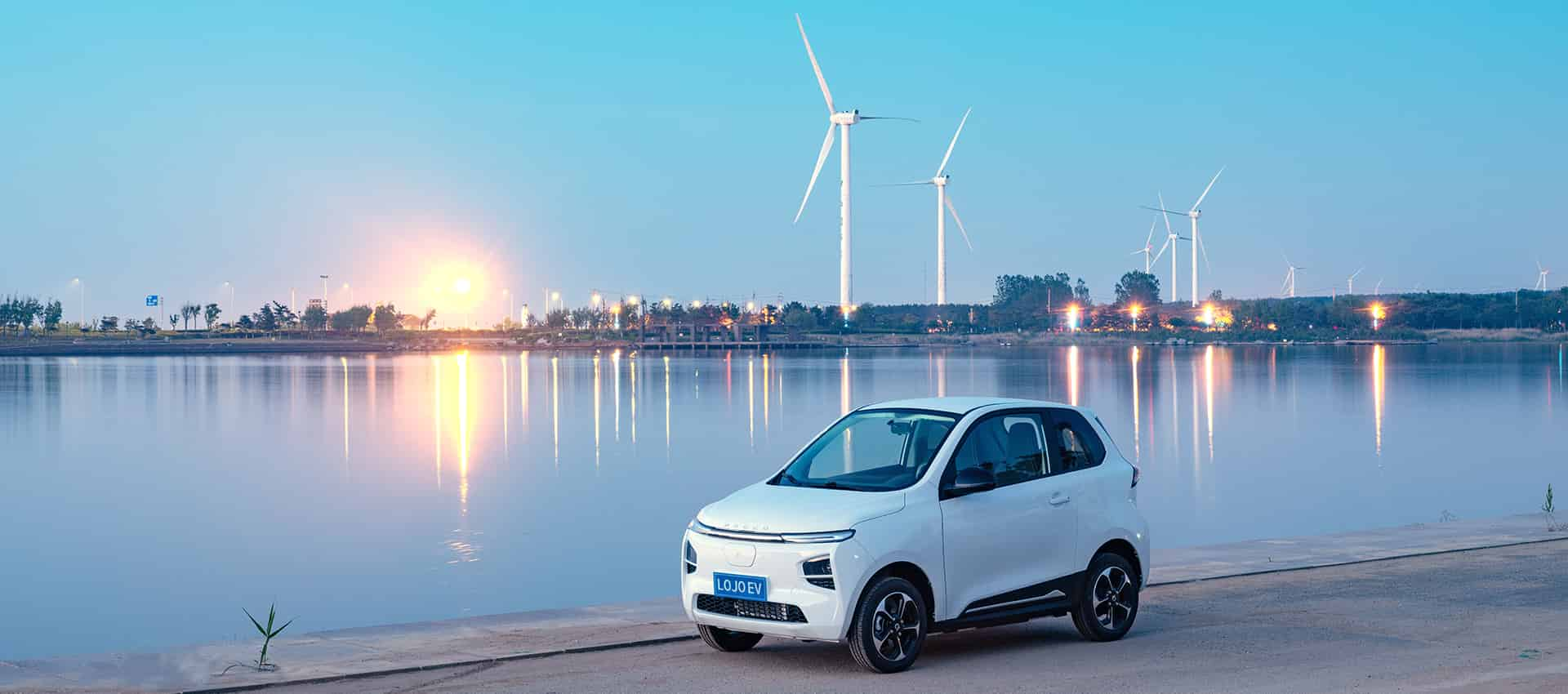 Range
Performance
Drive Modes
Safety
Platform
Warranties
From the hottest places to the coldest

— from 60ºF to -20ºF — our battery

systems were built to explore, delivering

between 120 – 200+miles of range

depending on the battery pack and

motor that you select.




Estimates will vary depending on driving

style and conditions.
Rock crawl at a 25% grade.

Traverse just about any terrain

with 17cm of ground clearance.

Max Torque 100 N.m.

With a 0-60 km time as quick as 3 seconds.




depending on your configuration,

it also delivers the on-road handling of a sports car.
Set car for a smooth ride around town or city .




With two drive modes,

Economic model, standard model.



Quality

MINI exclusive chassis development,

high standard chassis adjustment,

seiko quality is trustworthy


Intelligence essence

The whole vehicle is equipped with

11 intelligent configurations

to save worry and rest assured

Safety

Full bearing high strength body frame,

intelligent battery management system,

more comprehensive security






The platform includes our battery pack,

drive units, suspension, thermal and lower

body structure. These systems have been

elegantly packaged to preserve cabin space

for occupants and gear while providing a low

center of gravity for more confident driving.
P300 vehicles are built to last.

After sale worry-free, the vehicle

2 years or 100 thousand kilometers

warranty, power battery 2 years

or 100 thousand kilometers warranty.

Warranties are based on whichever comes first.
Connected car
Interior
Exterior color
sentertainment
Your mobile app, vehicle and charging capabilities

communicate seamlessly behind the scenes via

cellular or Bluetooth to help you get wherever

you're going, safely and fully charged.

Over-the-air updates continuously enhance your

drive, updating everything from driving dynamics

to the entertainment on your touchscreen.
Beautiful shape

smart appearance, penetrating taillight,

trendy and beautiful more fashionable.




Beautiful interior

stylish interior, piano keys,

high profile without losing simplicity.




Personality beauty

more personality modification scheme,

travel is wonderful.

Our vehicle colors draw inspiration

from the places we've been and things we love.

Like our Red and White,

the color we first shared with the world

Or Blue, our founder's favorite color.
USB port,

USB charging ,

central control touch large-screen,

mobile phone mapping ,

12V power port,

ETC vehicle-mounted device port ,

bluetooth,

vehicle-mounted phone
Storage
Truckbed
relaxation
Camp Kitchen
Adventure Gear






Small and smart,

the best partner for city travel;

766L large storage space,

to meet the small taste of girls' life;

Modern interior control is convenient,

convenient and multi-functional;

Easy parking,

no trouble,

every trip has a good mood.
Oversized suitcase,

two handle,

built-in luggage cart,

multi-purpose
can hold up to 72kg ,

so you can step up to


load gear OR big box on the roof



The magic of outdoor cooking,

with all the essentials from home.

Our Camp Kitchen enables you to

prepare complete meals wherever

you are — easily, comfortably and with a view.
Gear up and get going in seconds with our

adventure gear.

Cargo Crossbars are designed to fit multiple ports

on the roof and are compatible with a broad range

of mounts and gear — including our rooftop tent.

Look for more Adventure Gear and accessories,

like our Camp Kitchen or Wall Charger, in the

configurator today
Driver+
All features standard
Our system
With Driver+ engaged,

your vehicle will automatically steer

and adjust speed on your command. Driver+,

like all driver assistance systems,

requires your full attention on the road.

You should not use a hand-held device behind the wheel.
Hill hold .

Alerts for vehicles in low than 20km/h.

Every vehicle includes these features and more, all standard.




we'll add more over time at no cost to you.

Remote key + central lock,

Electric power Steering (EPS),

ramp assist, Economy/sport mode,

electric Windows, have

master/passenger seat adjustment,

reversing video
Configuration




Model

Early Brid

Basic Model

Battery Capacity

9.5kwh

10.35kwh

NEDC ranger

116

140

Max Speed

>100km/h(Europe Market 90/km/h)

Drive Model

FWD
FWD

EPS

●

●

ABS

●

●

EBD

●

●

TPMS

●

●

Air condition

●

●

HHC

●

●

Backup camera

●

●

USB charging

●

●

Phone carlife

●

●

Buletooth and car phone

●

●

Power window

●

●

Remote key

●

●

Rear Sest/Strage box

●

●

Central touch screen

●

●